André Kuipers Explains Everything About His Time In Space
As a 12-year-old, André Kuipers received three science-fiction books from his grandmother. There was something about stories in space that appealed to him. He very much wanted to travel to space himself one day! It was then that the foundation for André's space travel dream was established and he decided that he had to do everything he could to make that dream come true. His dream became reality, and he even wrote books about it. In collaboration with YourSurprise, we were fortunate enough to interview him for his latest book 'The Little Astronaut on a journey to the planets'.
What did you dream about as a child?
'About rockets, spaceships, aliens and adventures on other planets. For example, I fantasised that the Parool building next to our house was a large spaceship. As I got older, I realised that space travel combines adventure with scientific progress. This appealed to me greatly. But since space travel was only a thing in America and 'behind the Iron Curtain', the possibility of becoming an astronaut seemed out of reach for me. I thus decided to study medicine.'
"The road to space is a long one"
What inspired you to become an astronaut?
'Space travel continued to appeal to me. That's why I started working at the European Space Agency (ESA) as a doctor. Here I worked on the preparation of medical experiments in space and learned what the work of an astronaut actually entailed. I never gave up my dream and felt that I should do anything I could to become an astronaut. If only to not regret it later in life.'
How long does the training to become an astronaut take and what did you have to do exactly?
'The road to space is a long one. First of all, you must complete a scientific study program and have at least three years of work experience in your own field before you can apply. The European Space Agency selects a group of about six astronauts on average once every ten years. In other words, you have to wait patiently for the moment that you can apply, along with 10,000 other interested people. Until that time, you should work on your skills. For example, I got my flying and diving license. Others may learn Russian or try to develop other qualities more broadly. The ESA does not look for top athletes or specialist scientists, but 'all-rounders' who can work together very well. If you're lucky enough to be selected, your education starts with basic training. Before embarking on a space mission, you will train for about four years in various locations around the world. Astronauts need to acquire skills in many different areas and must stay fit and healthy. They also have to conduct experiments for the scientists on the ground, must be able to perform complex repairs and learn to pilot an American, Russian or - perhaps in the future - a Chinese spaceship.'
"Science and technology are important and fun"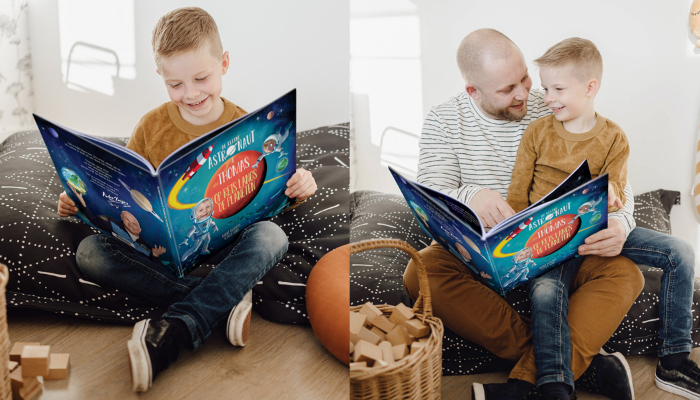 What impact has space travel had on your life? For example, have you started to think differently about our life on earth?
'Certainly. From space, our Earth is a beautiful blue sphere in a sea of hostile black nothingness. The atmosphere is very thin and you can clearly see how people are affecting it: forest fires, large-scale logging, erosion, air pollution, countless fishing vessels at sea... Not to mention the fact that you come to the realisation that we are sharing this planet with all people, animals, trees and plants. We need to give our planet more recovery time, so that we can all have a good life here.'
What message would you like to leave for children?
'By looking at the Earth from space, you provide children a completely different perspective on our beautiful, but fragile planet. When children realise that the Earth is actually one big spaceship with limited supplies on board, they realise that we need to be careful with our planet. You cannot simply consume all resources without impunity. In addition, I would like to show that science and technology are important and fun. To face future challenges with the help of technology and science, we need young people who can think outside the box. I hope to inspire young children with my stories set in outer space. Having your own lead role as a child in an adventure book such as 'The Little Astronaut' is of course very appealing!'
What future dreams do you still have?
'I would be delighted to witness the moment the first humans set foot on Mars. This will no doubt be a hugely complex mission, and for that reason probably the pinnacle of human space travel in this century.'
One final fun question: what is you favourite gift to receive?
'As a child I liked to read, which I still do. Although my bookcases are completely full by now, my favourite gift is still a book!'
André Kuipers' picture book 'The Little Astronaut on a journey to the planets' is available in two sizes: a regular sized version and an XXL version! It is a picture book in which the little reader plays a leading role. Very exciting! Personalise your very own book for a journey along the planets >>>