How to say thank you
Do you have people in your life that are always there for you, no matter what? You can always count on them and they are simply irreplaceable. When you ask them how you can thank them, they'll always say: ''No no, no thanks necessary, glad to help!'' And they're right; it isn't necessary, but it can be nice to surprise them with an original, thoughtful gift to say thank you for all that they do for and mean to you.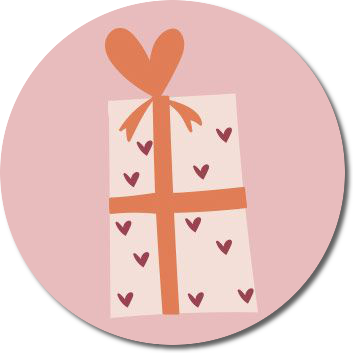 Why giving gifts is fun
Research shows that people really enjoy giving gifts. It's a way to show those around you that you love them or care about them. Giving gifts also strengthens the bond we have with others. Did you know that our brains actually respond when we give someone a gift? It activates the reward centres in your brain, which is why both receiving and giving gifts brings you joy.
Original gifts
How can you say thank you in an original way? You can gift them a generic gift, such as a box of chocolates or flowers from anywhere, or you could go for something a bit more personal, featuring a personal message or photo of the two of you, for example.

We've listed the best thank you gifts for you below.
Thank you gifts that always work
Some gifts just always work, such as a bottle of wine, a card or a delicious box of chocolates. But how about a personalised mug, or a personalised jar of sweets? Personalised gifts are more than just gifts. They show that effort has been made, adding an extra special finishing touch.
Gifts that can be personalised with the photo or text of your choice:
Saying thank you to your mum
Chances are you will be wanting to say thank you to your mum for everything she does for you. Does she always offer a shoulder to cry on? Give good advice? Never says 'I told you so', even though she always ends up being right? Is she always available to babysit the kids? For whichever reason, most people think of their mum as one of the most important people on the planet. We've got everything you need to say thank you to her, as we have lots of great gifts, especially for mums!
The best gifts with which to thank your mum:
Saying thank you to your neighbour(s)
Everybody needs good neighbours. Good neighbours are worth their weight in gold, not just because it's nice to live next door to friendly people, but because you can help each other out when necessary. Perhaps you'd like to thank you neighbour for feeding the cat and watering the plant when you go away, or for bringing your shopping when you're ill. Some neighbours even bake for each other, or share meals to help each other out.
Original gifts with which to thank your neighbour(s):
Have you decided on your thank you gift yet? If you'd like some more inspiration, take a look at all of our thank you gifts.
All thank you gifts >>>