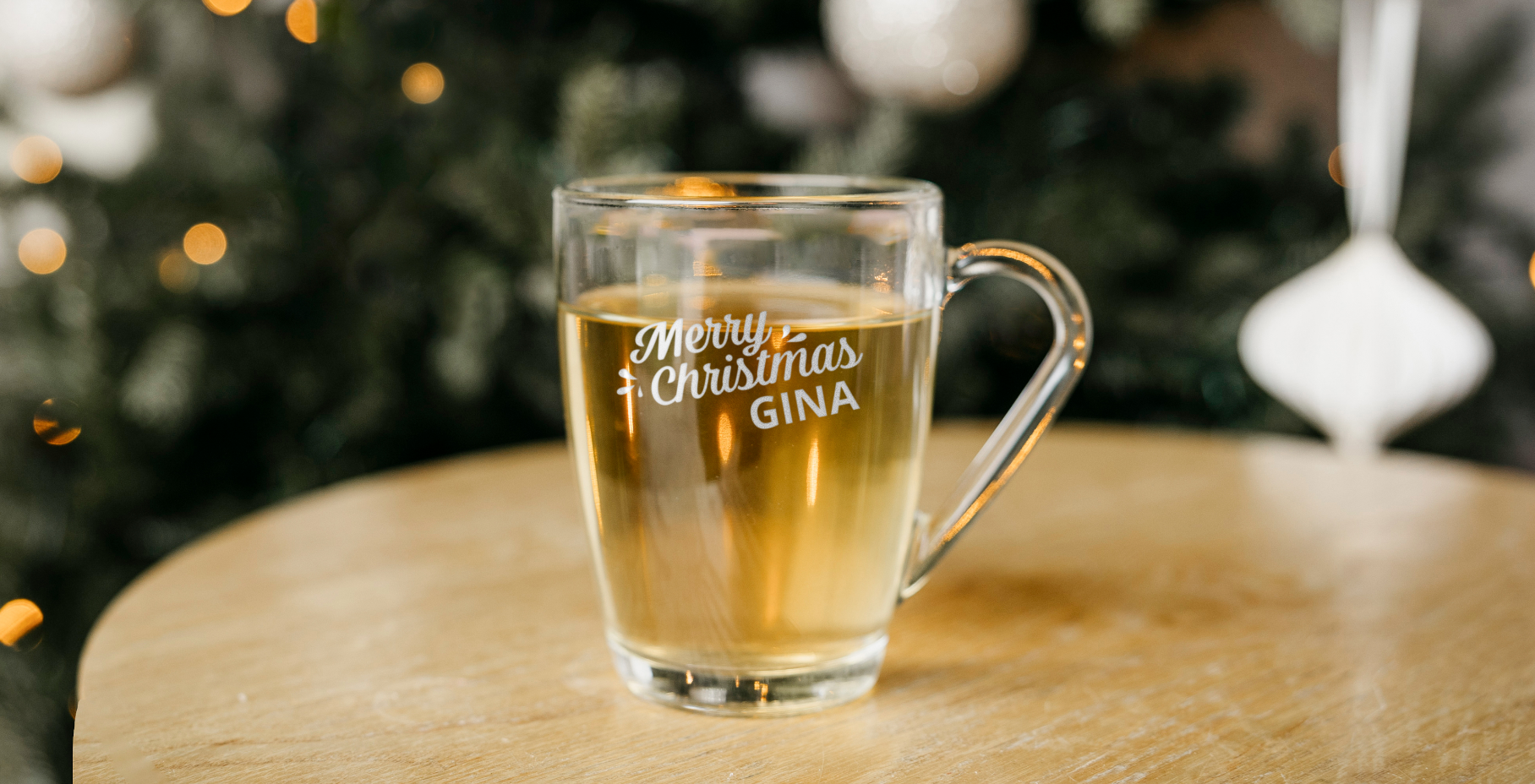 Personalised Tea Mugs
Create your very own personalised glass mug, engraved with the name or text of your choice. An awesome gift for any occasion!
Engraved Tea Mugs
If you're looking for the perfect gift for a loved one that loves a cuppa, these personalised engraved glass mugs are an original idea! Each glass can be personalised with the name or text of your choice. Our glass mugs are just one of the many types of personalised glasses we offer! We also have beautiful engraved champagne glasses and wine glasses, for example.
Various Engraving Options
A personalised engraved glass mug makes a wonderful gift for those who love their daily cup(s) of tea. You can have the glasses engraved with the name or message of your choice. Our online editor offers lots of different design options for you to choose from, from designs for Mother's Day, grandma, dad, birthdays, Christmas and many, many more. All you need to do is select your favourite free design and add your name or text of choice. If you prefer not to use a design and simply add your own text instead, no problem at all!
How your Engraved Glass is created
Your design is engraved into the surface of the glass using a high-quality laser-engraving technique. This means that the design is permanent, can't fade and is dishwasher safe, allowing the recipient to use the glass for a long, long time.
Personalised Glass mug featuring your Logo
We also offer the option to have your logo engraved into our glass mugs when ordering a larger quantity, allowing you to use them at your office, gift them to clients or use them as promotional material. They're a real eye-catcher! If you're interested in having your logo engraved, contact our business department and they'll help you to arrange this.
Thank you, Teacher!
More and more parents and their children enjoy surprising their teacher with a little gift at the end of the school year, to say thank you for all of their efforts. An engraved glass mug is the perfect personal, practical gift for school! Our editor offers lots of different designs specifically for teachers, all you need to do is add their name. If you're looking for a gift from the entire class, why not go for our cool personalised tea set, including a beautiful wooden tea box and tea glass!
Various Types of engraved Tea mugs
YourSurprise offers different types of glass mugs, so there's something for everyone. There's the heavier, thicker glass mug and a lighter, rounded glass mug. Select your type and add your engraving design!
Tea lover's Gift Set
If you're surprising a tea lover, you can create a lovely personalised tea gift set, including an engraved glass mug and a wooden tea box. You could even choose to have the tea box engraved! This engraving is done using a high-quality laser-engraving technique, just like the glasses. Check out the wooden tea box >.